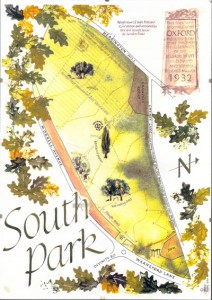 South Park is a park on Headington Hill in East Oxford, England. It is the largest park within Oxford city limits. A good view of the city centre with its historic spires and towers of Oxford University can be obtained at the park's highest point, a favourite location for photographers.
The park is located alongside Headington Road. St Clement's links the park with central Oxford. A 19th-century bridge links the park with Headington Hill Park. On the southern boundary is the gently curving Morrell Avenue, named after the local brewing family.
The land was privately owned until 1932 by the Morrell family of Headington Hill Hall. The Morrell family managed South Park as a working farm with tenant farmers based at Cheney Farmhouse (the barns on Cheney Lane). The Oxford Preservation Trust bought the land in 1932. In 1959 the Trust gave the land to the City of Oxford to be preserved as an open space for the benefit of the public known as South Park. A carved stone by the sculptor Eric Gill is located at the foot of the Park and records the Trust's gift thus: 'This park was acquired by the Oxford Preservation Trust through the liberality of the Pilgrim Trust and David and Joanna Randall-McIver 1932' (Edward Harkness, American oil millionaire, founded the Pilgrim Trust in 1930 with a donation of over two million pounds).